Chanting, "What Do We Want? Single-Payer" and "Healthcare is a Human Right, Join us, Join us in our Fight", more than thirty people marched in the Healthcare is a Human Right-Maryland contingent in Baltimore's Martin Luther King, Jr. parade on January 16th. Quoting Dr. King, the group's lead banner read, "Of all the forms on inequality, injustice in healthcare is the most shocking and inhumane." Participants from Baltimore City and Baltimore, Montgomery, Carroll, and Howard counties (and two people from Pennsylvania!) wore yellow and black Healthcare is a Human Right t-shirts. They carried an array of banners and signs advocating for single-payer, urging improved and expanded Medicare for all and opposing for-profit health care. The large crowd watching the parade responded enthusiastically to our message for universal healthcare. People cheered, repeated our slogans, and waved to us. As we passed the reviewing stand, the announcer urged the on-lookers to give us another big hand since, he said, the incoming president had vowed to repeal existing healthcare protections. Thanks to all who organized and attended this event.
Healthcare-Now Maryland has copies of the new 2016 documentary, "Now is the Time: Healthcare for Everybody." 71 minutes, done by Laurie Simons and Terry Sterrenberg, makers of "The Healthcare Movie." To borrow or schedule a showing among friends, email info@mdsinglepayer.org
Robert Zarr, M.D. (President of PNHP), Eric Naumburg, M.D. (Co-Chair PNHP – Maryland)  and Vijay Das with Public Citizen discuss the advantages of a single payer healthcare system.  This show was in part a response to the debate between Bernie Sanders and Hilary Clinton over the value of single-payer; and also in part  because of the recent mischaracterization of Senator Sanders healthcare plan by Chelsea Clinton.  The show runs about 30 minutes and is in two parts, click on the links below.
About 30 activists served cake to passers-by and waved to rush hour commuters on 33rd and St. Paul Streets, Thursday evening, July 30th, 2015, the anniversary of the establishment Medicare. The purpose of the celebration was not only to celebrate the popular health insurance program for older Americans that was signed into law July 30, 1965, but to call for an expanded and improved Medicare program for everyone.
The event was part of a national day of action to highlight the continuing need for a comprehensive, universal health insurance program in the US. At lease 87 actions were held across 69 cities in 24 states that mobilized thousands of people.
In Baltimore, the response was enthusiastic and positive. Commuters passing through the busy intersection honked and waved. People walking by stopped to talk, accept an informational handout, and have a piece of cake.
The Baltimore event was sponsored by Health Care NOW! of Maryland; United Workers; and Physicians for a National Health Program, Maryland Chapter. These three organizations are partners in Maryland's ongoing, "Health Care is a Human Right" campaign, which advocates for establishing a universal, single-payer health care financing system in the US.
A gala annual meeting of Healthcare-Now of Maryland was held March 10th, 2015 at the Episcopal Diocese of Maryland in Baltimore. Forty-five members and friends of single-payer were in attendance. Speakers summarized activities of the past year–participation in Lobby Day in Annapolis, marching in the annual MLK Day parade in Baltimore, and grants to the Healthcare is a Human Right Campaign Maryland. Eric Naumburg gave an update on the latter campaign. Robert Zarr, president of PNHP, gave the featured address, which highlighted personal experiences with community health that encouraged physician endorsement of single-payer. Bumper stickers, buttons, and literature were on sale. Plans for the rest of 2015 were unveiled. All are invited to attend monthly meetings also held at the Episcopal Diocesan Center, usually on the fourth Thursday of the month.
Want to show "The Healthcare Movie" at a house party to your friends, family, neighbors, club, or church, etc.? The movie has dynamic comparisons of Canada vs. USA healthcare. Healthcare-Now of Md. will get you (that is, mail or, if in the Baltimore area, deliver to you a free copy for the showing. Either the 65 minute or 25 minute version. Also, we'll be happy to have one of our members lead a discussion and answer questions.
For more info, or to make arrangements, email info@mdsinglepayer.org.
On a beautiful, crisp fall day folks from all around Maryland came to Baltimore and marched from Patterson Park to Canton, across from the First Mariner building where Carefirst, the largest private insurer in Maryland and symbol of what's wrong with healthcare has offices.  The march called attention to the serious problems Marylander's have in getting and paying for healthcare; there are over 750,000 without insurance and medical illness remains the number one cause of personal bankruptcy.  Many delay seeking care because of cost.  We are asking Maryland to treat healthcare as a human right  and make it a public good like our roads, the police and firefighters and not commoditify it as a source of profit for investors and CEO's.
Lead by a marching band, the "Christian Warriors", the march brought many people out of their houses.  Flyers explaining the purpose of the march were passed out and many told us they supported a publicly financed universal healthcare system, everybody in and nobody out.  The event included street theater where the dragon of death, signifying the fate of the uninsured was routed by the strength of people coming together and demanding their rights.
The march was covered by the Baltimore Sun, Channel 11, The Real News and several local newspapers.
At the event, we announced the formation of a statewide leadership council which will help direct our campaign.
Link to coverage of the Health Justice March: http://healthcareisahumanrightmaryland.org/campaign/blog/media-healthcare-march
The following is the executive summary of the economic impact study of the proposed Maryland Health Security Act. You can download the full study here.
Maryland is on an unsustainable economic path; health care costs are absorbing a growing share of personal income. Between 1991 and 2011, health care spending in Maryland increased by $35 billion, nearly 10-times the rate of population growth and almost twice the rate of growth in per-capita income. Should health care spending continue to increase at this rate, spending will pass $100 billion in a little over a decade. Little of this increased spending can be attributed to improvements in health care; instead, the fastest growth has been in administration and billing operations while many remain without adequate health insurance or access to needed care.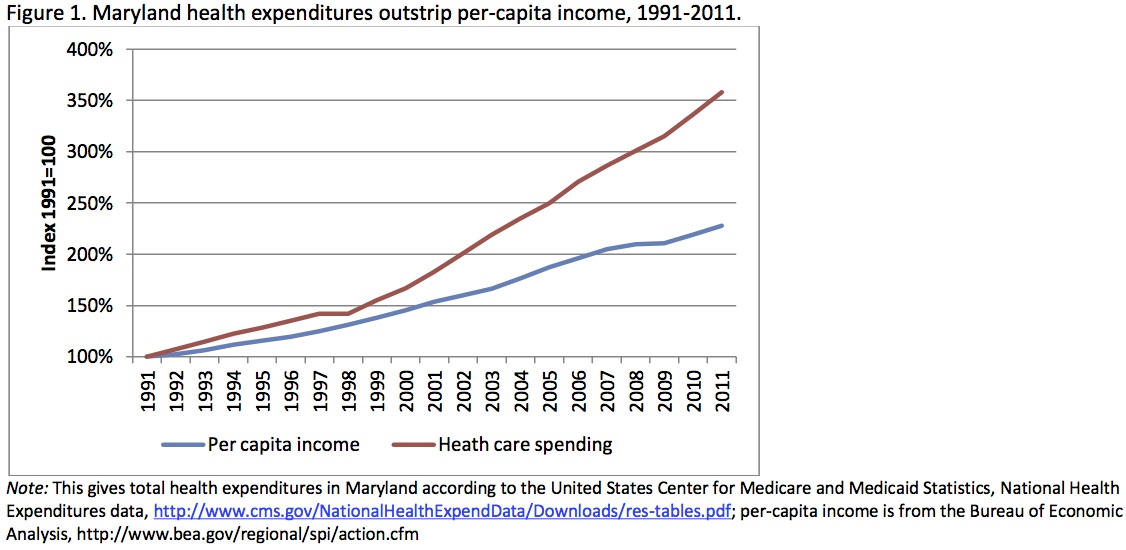 The Maryland Health Security Act (MHSA) would put Maryland on a sustainable path by controlling health care costs while giving all citizens access to quality health care. It would establish the Maryland Health System Trust (MHST) as a single-payer system to finance health care, paying for all necessary medical care including hospital care, visits to doctors, nurses, occupational and physical therapy, prescription drugs, medical devices, medically necessary nursing home care and home health care. By reducing administrative costs and anti- competitive market practices, the MHST could save over $13.2 billion in 2013, or over 24% of existing spending. These savings would allow the expansion of coverage to all Maryland residents while still saving over $6 billion, or over $1,000 per person.
The MHST would be funded by payroll taxes and a levy on non-wage income including capital gains, profits, rents, dividends, and interest. The shift from insurance premiums and out-of-pocket expenses to taxes linked with income would especially benefit lower- and middle-income Marylanders, businesses would also benefit from the reduced administrative burden and because payroll taxes would be less than most now pay in insurance. By lowering payroll costs, the MHST would make Maryland businesses more competitive, producing an additional 70,000 new jobs.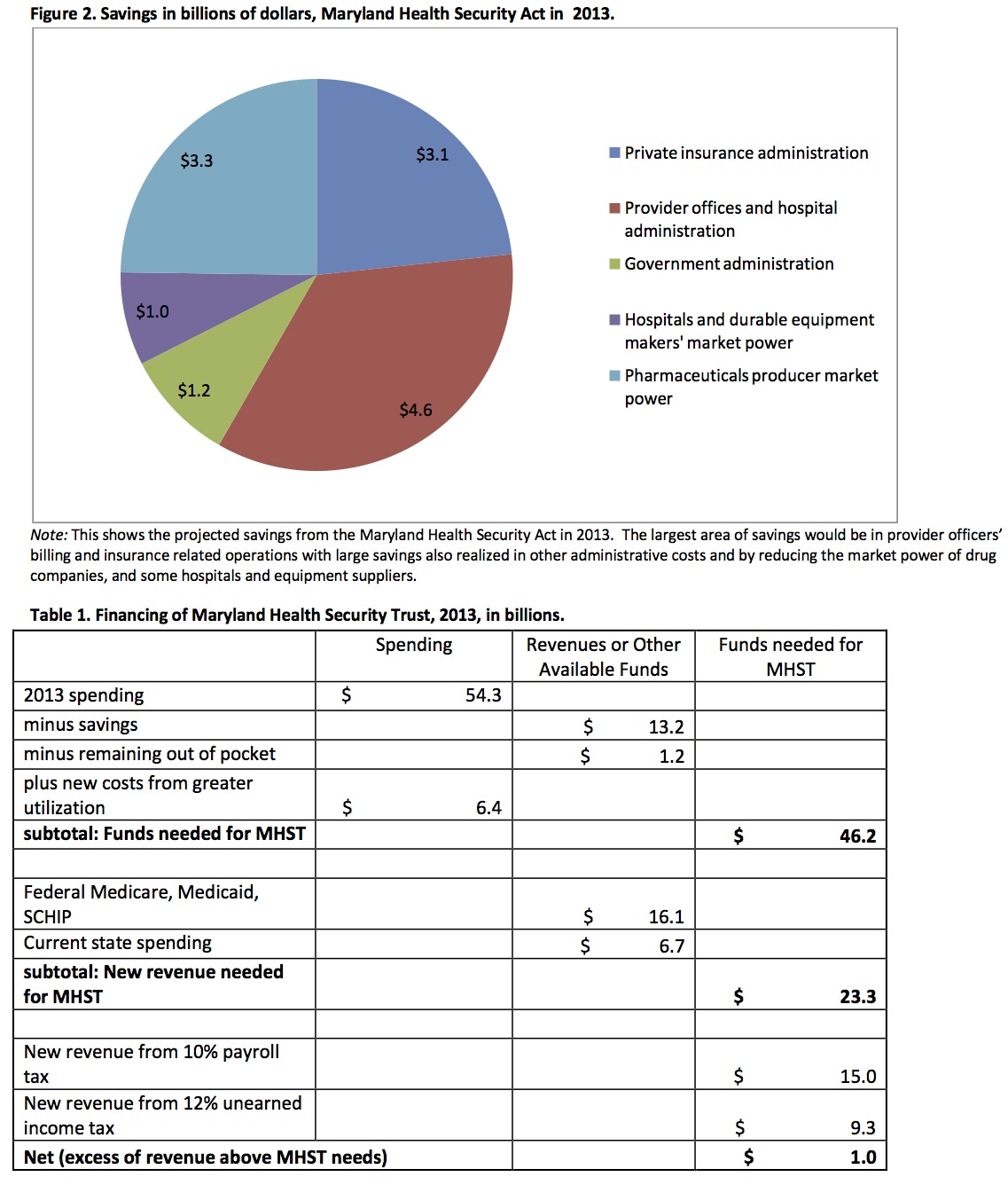 U.S. Practitioners and Big Pharm Harm More Than They Heal, Notes from conference June 14-15, 2012.
An Article by Dr. Deborah Schumann, M.D. from conference at Georgetown, University.
Marketing:  Americans spend 100 times more time exposed to drug and device ads than they spend face to face with their doctors.  Barbara Mintzes, PhD. Therapeutic Initiative, Vancouver, Canada.
Drug mortality:  Appropriately prescribed pharmaceuticals are the 4th leading cause of death in the U.S., while 2% of drugs are "life-saving." Donald Light, PhD., University of Medicine and Dentistry of New Jersey.
For full article click on  Pharmed Out:.
Montgomery County Healthcare-NOW, led by several PNHP members, met April 10 at Dr. Deborah Schumann's home.  Our volunteer membership brings together a broad range of experience in primary and specialty care, health care policy, employee benefits management, and community health care organizing and delivery.   Our immediate plans include organizing for local participation in the Health Care is a Human Right campaign.  For this, we need both medical and non-medical people who want to help us achieve equal access to affordable quality health care for all.
Check us out.  For contact info go to http://www.mdsinglepayer.org/about/contact-us/