The following is the executive summary of the economic impact study of the proposed Maryland Health Security Act. You can download the full study here.
Maryland is on an unsustainable economic path; health care costs are absorbing a growing share of personal income. Between 1991 and 2011, health care spending in Maryland increased by $35 billion, nearly 10-times the rate of population growth and almost twice the rate of growth in per-capita income. Should health care spending continue to increase at this rate, spending will pass $100 billion in a little over a decade. Little of this increased spending can be attributed to improvements in health care; instead, the fastest growth has been in administration and billing operations while many remain without adequate health insurance or access to needed care.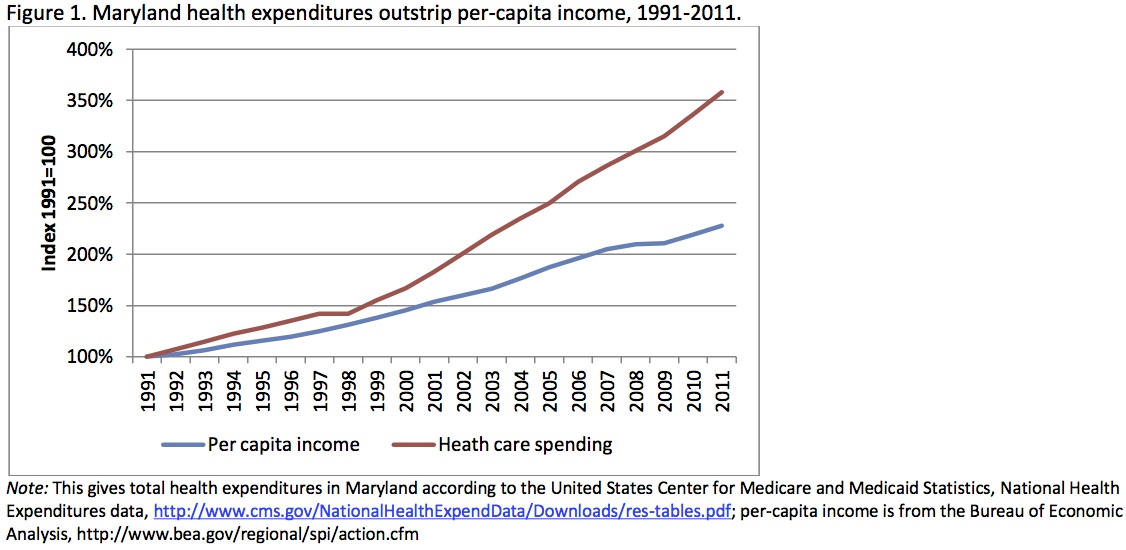 The Maryland Health Security Act (MHSA) would put Maryland on a sustainable path by controlling health care costs while giving all citizens access to quality health care. It would establish the Maryland Health System Trust (MHST) as a single-payer system to finance health care, paying for all necessary medical care including hospital care, visits to doctors, nurses, occupational and physical therapy, prescription drugs, medical devices, medically necessary nursing home care and home health care. By reducing administrative costs and anti- competitive market practices, the MHST could save over $13.2 billion in 2013, or over 24% of existing spending. These savings would allow the expansion of coverage to all Maryland residents while still saving over $6 billion, or over $1,000 per person.
The MHST would be funded by payroll taxes and a levy on non-wage income including capital gains, profits, rents, dividends, and interest. The shift from insurance premiums and out-of-pocket expenses to taxes linked with income would especially benefit lower- and middle-income Marylanders, businesses would also benefit from the reduced administrative burden and because payroll taxes would be less than most now pay in insurance. By lowering payroll costs, the MHST would make Maryland businesses more competitive, producing an additional 70,000 new jobs.